As described in the linked blog post there are several ways to remove a rounded nut. Here is a brief description of what a rounded nut is, how it becomes rounded and how you can remove one.
What is a Rounded or Damaged Nut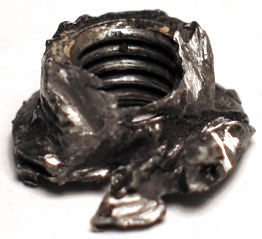 A rounded nut, or the rounded head of a bolt, is a nut or bolt where the corner angles have been smoothed over, or rounded. The effect of this deformation is that most tools will not be able to grip the fastener and will slip or spin when you try to remove the damaged nut or bolt.
A rounded nut makes a repair job take much longer than normal, a fifteen minute job can easily take an hour or more to complete. Depending on how you attempt to remove the damaged nut, the job can also become significantly more difficult.
How Nut and Bolts Gets Rounded
A nut or bolt head will generally get rounded when you attempt to use the wrong tool for the job. For example, trying to use pliers when you should be using a wrench or socket can cause a nut or bolt to become rounded off. Using the wrong size or type of sockets or using 12 point sockets with lots of force instead of using 6 point sockets can also round off a nut. Using damaged tools also further increases the chances of rounding a nut. If the nut is of poor quality or slightly rounded, it becomes easier to round it even further.
How to Remove a Rounded Nut and Damaged Bolts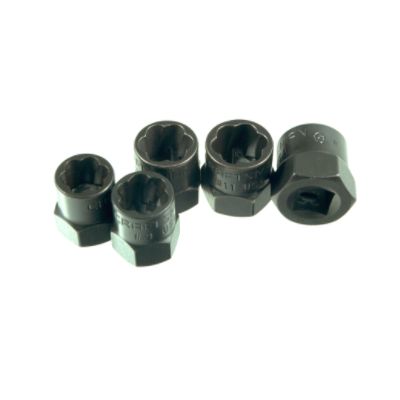 The best way to remove a rounded nut is to use tools designed for the job. Some of these tools are nut and bolt extractors and nut splitters. I have not tried them but Irwin tools makes a bolt extractor set and a bolt extractor expansion set. Other methods may be successful, but they may require more time and work. Some other methods involve, heating, cutting, drilling, using pipe wrenches, welding a good nut to the bad one, pounding and knocking the nut in the direction it should go. This linked blog post shows how to remove a rounded nut as well as images of the nut, extractors and a description of some of the other methods used.
Stripped and Damaged Screws
Nuts aren't the only fasteners that can show signs of wear, you likely have seen screws with damaged heads due to the screwdriver tip slipping out of its slot in the screw head as the screw is being tightened. This commonly happens when using low quality screws or inferior screwdrivers and tips. Stripped screws become problematic since they are hard to tighten and hard to remove. Damaged Screw Extractors can be used to remove stripped screws.